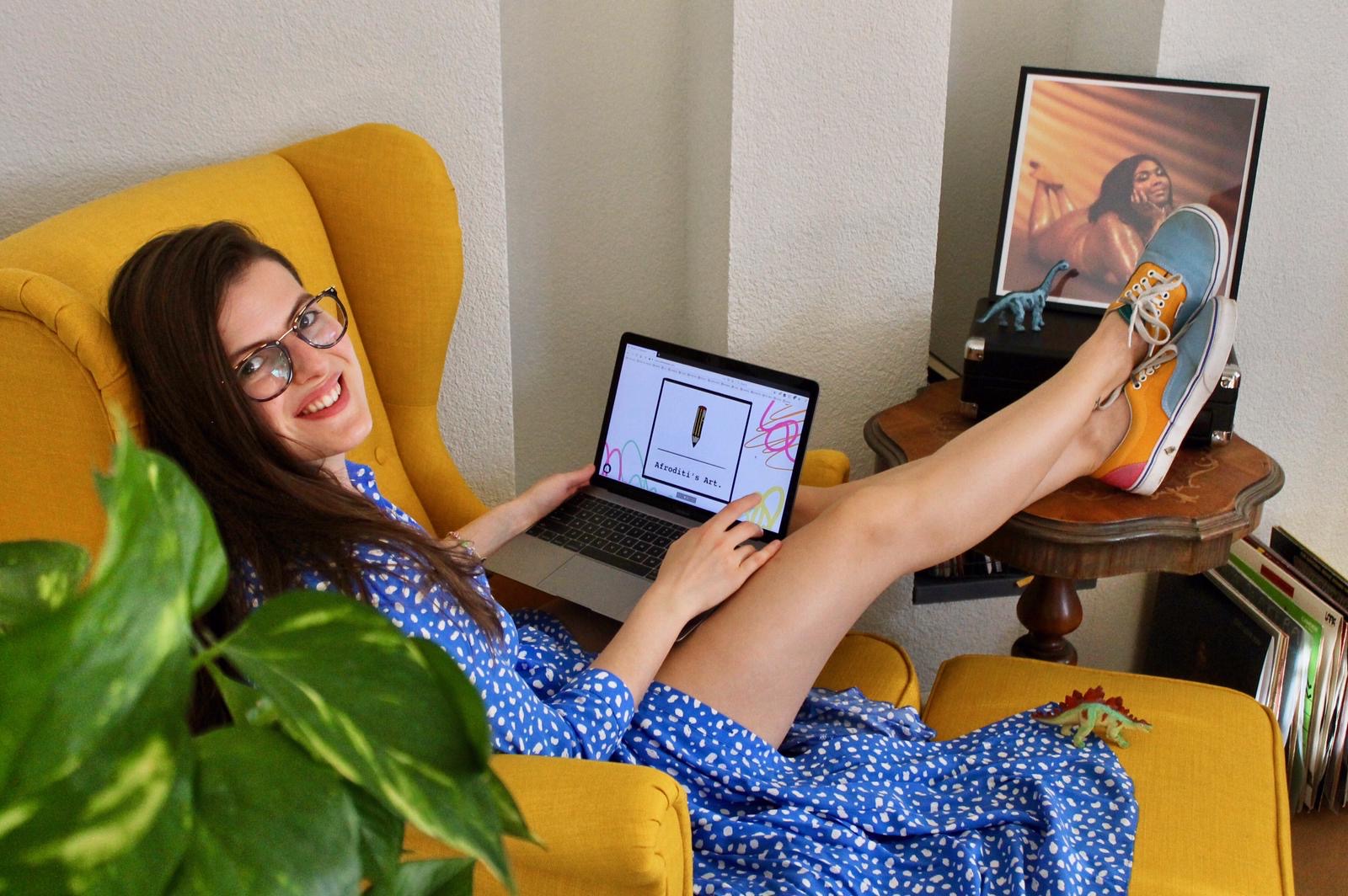 01 Jul

Meet Afroditi, our illustrator!

Ladies, gentlemen and everyone in between, through and around, meet our illustrator: Afroditi. She makes art and loves LGBTQ+ rights, women, equality, inclusion, plants, butts&boobs, bread and dinos. Perhaps you might have already seen some of her work coming through to our socials (Shakespeare's mustache is way better like this, we think). Let's meet her!

Hi Afroditi! It's so great to have you join the Shakespeare Club! Are you excited about the festival?

I am so thrilled for the festival and even more excited to be part of it and see all the work behind the scenes! As soon as I saw the call for creatives as volunteers, I was so excited to jump on the chance. I am originally from Greece, but ever since I moved to the Netherlands as an 18 yo, participating in queer and artistic events has been such an eye-opener for a world full of love, acceptance, activism, and creativity. So, the opportunity to participate in the very organisation of such an event instead of merely being a guest is very exciting and gratifying.

What are you working on at the moment?

After a lifetime of being passionate for both art and human rights, I finally recently launched my own webshop for my art-work: Afroditi's Art. I have been also focusing on making my Instagram page a platform for discussions on social issues or -sometimes- taboos, with the themes of my art addressing LGBTQ+ rights, intersectional feminism, empowerment, and love. At the moment I am working on a collection on body positivity and self-love.

What does the theme #TAKECARE mean to you?

The theme "Take Care" really speaks to me! I am a strong believer that we can be happiest personally but also contribute most to society's progress at large, when we "take care". When we love and accept ourselves, we are better equipped to receive love and acceptance and extend it to others around us. Taking care means self-reflecting, finding and expressing pride, standing up for your beliefs and showing up for those who need your help.

What are you most looking forward to?

How could I choose? I am looking forward to it all! But most of all, to take in all the wonderful art, meet amazing people, and feel the empowering energy of such a wholesome project.

We understand why it's difficult to choose. The line-up has just been announced and there are so many things to see and experience. Each and every component of the festival adds something unique. We can't wait to see more of you. Where can we find you in the meantime?

You can always head to my website or check me out on Instagram ?