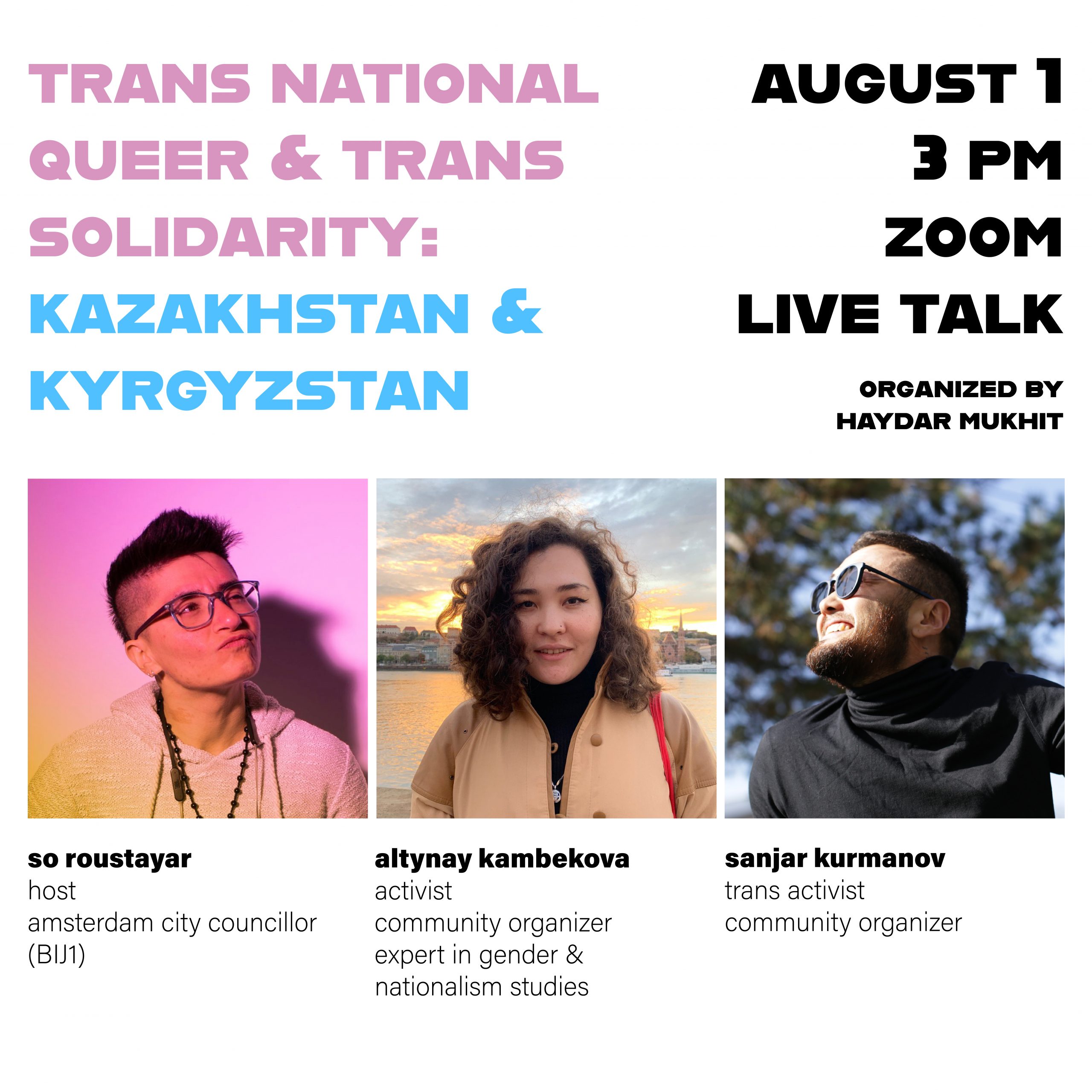 21 Jul

Zooming into trans life in Kazakhstan and Kyrgyzstan

When I came across this event I thought, "Hmm, Kazakhstan and Kyrgyzstan? Here is a chance to learn something new." The Central Asian countries sometimes escape attention because of their domineering neighbours in the world stage. Even more challenging is the situation of the LGBTQ community as both countries are Muslim-majority states of 70% and 90% respectively which leads to wide homophobia and discrimination although both as of 1998 allow consensual same-sex sexual activity.

The Amsterdam-based gay dating app Planet Romeo, which graciously hosted me and a party of newcomers to the Netherlands at the end of 2019, in their groundbreaking Gay Happiness Index of 2015 lists Kazakhstan at 118 and Kyrgzstan at 124 out of 127 countries. The two countries were unceremoniously joined by Iran, Iraq and six African countries; Cameroon, Ethiopia, Ghana, Nigeria, Uganda and Sudan in the worst ten. Zimbabwe, my birth country, is at close rank of 110 in the worst top twenty. Russia, which helped Zimbabwean freedom fighters in the ending of colonial rule in the 1970s while keeping a grip on Kazakhstan and Kyrgyzstan in the Soviet Union, ranks at 87 in the bottom forty.

This year the Shakespeare Club festival brings the Transnational Queer and Trans-Solidarity: Kazakhstan and Kyrgyzstan, an event organised by Netherlands-based Kazakh artist Haider Mukhit who hopes that more Dutch people could be aware of what is happening in the two countries. "It's hard for activists in Kazakhstan and Kyrgyzstan to receive international support from other LGBTQ activists abroad especially now as there exists queer and trans people who have been affected by the novel COVID-19 virus," he said.

"Attending this webinar will let people find out about the issues we are facing and directly hear from organisers about the ways in which we are dealing with them as well as how to show up and support us better," he added.

Kyrgyz-based activist Sanjar Kurmanov who will be joined by fellow Kazakh activist Altynay Kambekova, echoed the sentiments of the organizer, "Society having lack of understanding the difference between sexual orientation and gender identity makes it challenging for trans people. We value solidarity in Central Asia and in these times, online visibility is all we have and it could make us unsafe. The LGBT agenda is often used as an anti-LGBT political tool and worse in [neighbouring] Turkmenstan and Uzbekistan."

Moderating the panel is Amsterdam councilor So Roustayar from the youthful and diverse party, BIJ1 who said, "I'm from Afghanistan and it's important to get knowledge from each other in the struggles we face. We need to raise the voices of different groups, inform [each other] and connect through solidarity."

Details about pre-registering for the free one-hour webinar on August 1, 2020 from 1500-1600 can be found here.